News
*** Our program for the Portarlington Dance Weekend has been settled. ~ ~ ~ Audrey Fine is replacing Sheffi Shapira ~ ~ ~ * See HOME PAGE for links to download full brochure *
*
Most significantly for our organisation, our AGM will be held prior to the Hoedown on 24th Feb.
We plan to have a byo picnic tea, after the AGM at 6:30,
and to make the Hoedown a free-to-members event.
~ ~ ~ ~ ~
Our News Updates -

Firstly, for those of you disappointed that we are NOT HAVING our Christmas Hoedown this year, it was decided to time-shift it to early in the new year, to relieve the congestion of all the 'break-up' functions!
Instead, we are having a "Sadie Hawkins Day" Hoedown, on 24th Feb.
Based on the comic strip character from Al Capp's biting satirical strip, "Li'l Abner", (think Hillbilly fun, & check out the links included below) it ties in nicely with our 29th Feb./Leap Year traditions, so it will be a 'Lady's Choice' event. Maggie & her Chestnut Street Orchestra will be playing for it.
Secondly, a big 'Thank You' to all who came to Portarlington, & helped make it such an enjoyable, and successful weekend, – see report in the latest Bulletin.

However, sadly last year marked the retirement of Marion Stabb from our Committee, after 25 years (& 21 years looking after the Portarlington weekend!) - an outstanding period of achievement and dedicated service, for which we are all HUGHLY indebted.
Thirdly, entries are now open in our 'New Dance' competition for 2018, which will again be judged at the National Folk Festival, next Easter. Entries to be sent to George Ansell, close early March
~ ~ ~ ~ ~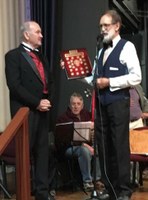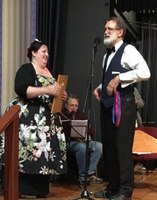 Our 2017 Winners !
Congratulations !
Norm Ellis presenting 2017 Dance Comp. winners with their Trophies, during the Sunday night Ball, at the Bundanoon DanceFest w/e.
Kathy Potter: "The Yarralinka"
& Peter Gamble: "Mary's Lament".
  ~  ~  ~  ~  ~  ~  ~ 
 At long last the film: "The Legend of Ben Hall" has bee released !
The TSDAV & Melb. Colonial Dancers, make the credits, for our help with the dance scene !
That aside, it is well worth seeing as a film, faithful as it is to the historical facts, but being an 'indi' production, on limited release, it may not be around for long, so make the effort to see its soon!
  ~  ~  ~  ~  ~
*** All entries for the 2019 Competition to be received by 20th February, 2019 ***
The background to "WATTLE DAY" - and why we should celebrate !
A transcript on the ABC's Radio National 'Bush Telegraph' interview "Wattle Day welcomes Spring"