Sadie Hawkins Day ~ explained !
       Sadie Hawkins Day is an American folk event and pseudo-holiday originated by Al Capp's classic hillbilly comic strip Li'l Abner (1934–1978). This inspired real-world Sadie Hawkins events, the premise of which is that females ask males to, or for, a dance. Similar dances, sometimes called Spinsters' Balls, have spread to Australia. In the U.S., February 29 is often referred to as "Sadie Hawkins Day" signifying a gender role reversal, such as a day when a woman may propose marriage to a man.
~ ~ ~  See Wikipedia entries for Lil' Abner, Sadie Hawkins Day & Sadie Hawkins Dance.
So, who is/was Sadie Hawkins ???
        In Al Capp's classic satirical cartoon comic strip "Li'l Abner" –
Sadie Hawkins was the daughter of one of Dogpatch's earliest settlers, Hekzebiah Hawkins. The "homeliest gal in all them hills," she grew frantic waiting for suitors. When she reached the age of 35, still a spinster, her father was worried about Sadie living at home for the rest of his life!
In desperation, he called together all the unmarried men of Dogpatch and declared it "Sadie Hawkins Day".
A foot race was decreed, with Sadie pursuing the town's eligible bachelors. With matrimony as the (absurd) consequence of losing the foot race, the bachelors of the town were running for their freedom.
"When ah fires [my gun], all o' yo' kin start a-runnin!
       When ah fires agin—- after givin' yo' a fair start—- Sadie starts a runnin'.
             Th' one she ketches'll be her husbin."
The town spinsters decided that this was a good idea, so they made Sadie Hawkins Day a mandatory yearly event, much to the chagrin of Dogpatch's bachelors. If a woman caught a bachelor and dragged him, kicking and screaming, across the finish line before sundown, by Dogpatch law he had to marry her.…
but as there are no finish lines at the TSDAV dance, everyone is safe !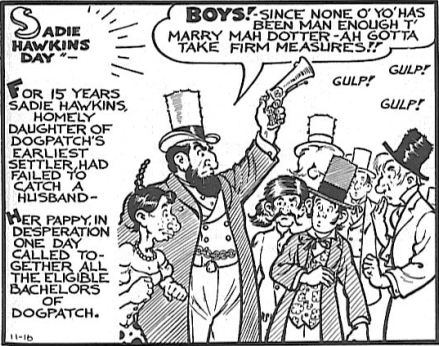 So, polish up your dancing boots and head to . . .

Ashburton Uniting Church Hall, 3 Ashburn Grove
for the   Sadie Hawkins' Day Hoedown !
Saturday February 24th 2018
---