WATTLE DAY - What's it all about ?
The background to "WATTLE DAY" - and why we should celebrate !
Wattles have long had special meanings for Australians, and in 1988 the Golden Wattle (Acacia pycnantha) was officially gazetted as Australia's national floral emblem.
In 1992, the first day of September each year was officially declared 'National Wattle Day' throughout Australia by the Commonwealth of Australia.
2010 was the centenary of the celebration of Wattle Day on 1 September 1910, in NSW, Victoria and South Australia.
Wattle has graced Australia's Coat of Arms for 100 years
Prime Minister Andrew Fisher changed Australia's Coat of Arms in 1912 to include more relevant Australian symbols and made a spray of wattle the background feature.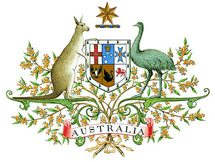 Image courtesy of:   http://www.itsanhonour.gov.au/coat-arms/#Images
Wattle Day Association President, Terry Fewtrell says:
"It is all the more appropriate that Wattle is the background of our national Coat of Arms, as it has been here for millennia. Wattle has welcomed us all – indigenous, colonial and modern day immigrants."
National Wattle Day - why do we celebrate?
Wattle is our national floral emblem. It is a symbol that comes directly from our land;
Wattle is Australian and represents us all. Unlike other national days, National Wattle Day excludes no one;
Like our people, wattle has great diversity (with nearly 1.000 species) and resilience;
Wattle welcomes in the spring and is among the first plants to regenerate after fire, reminding us of the importance of renewal as it paints our national colours across our land; and
Wattle is a unifying symbol for all Australians. There is no other symbol that says so much about us and our land, Australia.
Wattle is a symbol of Australia and Australians.
So on 1st September join the celebration of National Wattle Day.
Terry Fewtrell, President, Wattle Day Association